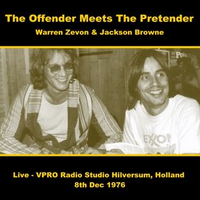 The Offender Meets the Pretender is a widely bootlegged Dutch radio program featuring songs by, and interviews with, Warren Zevon alongside his friend and colleague Jackson Browne. The recordings are from Zevon's first tour in 1977, shortly after the release of his second album, which included guest appearances in the middle of Jackson Browne's concerts. The Offender Meets the Pretender is a recording of one of theses appearances. Later when Jordan Zevon started allowing the release of old concert recordings online on the Internet Archive to be freely redistributed, these recordings were released.
Track listing
Edit
Introduction (Dutch)
"These Days" > (interview)
"Cocaine Blues" (Davis)
"Linda Paloma"
"Mohammed's Radio" > (interview)
"Desperados Under the Eaves" > (interview)
"For a Dancer"
"Something Fine"
"Back Turned Looking Down the Path" > (David Lindley intro)
External Links
Edit
Ad blocker interference detected!
Wikia is a free-to-use site that makes money from advertising. We have a modified experience for viewers using ad blockers

Wikia is not accessible if you've made further modifications. Remove the custom ad blocker rule(s) and the page will load as expected.