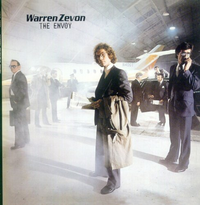 The Envoy is an album by American singer/songwriter Warren Zevon, released in 1982 by Asylum.
It is considered to be the least well-known of his major-label studio recordings because it was not released on compact disc until 2006. A commercial failure at the time of its original release, The Envoy caused Zevon's label to terminate his recording contract, a fact the self-destructive Zevon famously discovered only after reading about it in the gossip column of the Rolling Stone. The result was a binge that nearly killed him, followed by a rehab stint that kept Zevon clean and sober until the last year of his life.
The title track was inspired by veteran American diplomat Philip Habib's shuttle diplomacy during Israel's Lebanon incursion of 1982. This was also his son Jordan's first appearance on his albums, providing harmony vocals on track three.
Track listing
Edit
All songs written by Warren Zevon except as indicated.
Bonus Tracks (2007 CD release)
Edit
Track listing note: On the original vinyl release, tracks 1-5 comprised Side one, and tracks 6-9 comprised Side two.
Personnel
Edit
Additional personnel
Edit
<< Stand in the Fire | A Quiet Normal Life: The Best of Warren Zevon >>
<< Bad Luck Streak in Dancing School | Sentimental Hygiene >>
Ad blocker interference detected!
Wikia is a free-to-use site that makes money from advertising. We have a modified experience for viewers using ad blockers

Wikia is not accessible if you've made further modifications. Remove the custom ad blocker rule(s) and the page will load as expected.