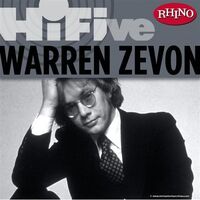 Rhino Hi-Five: Warren Zevon is a compilation album of Warren Zevon music issued by Rhino Records on July 31, 2007. Featuring newly remastered recordings, it was released as only as downloadable content. It seems to largely to have been made to promote the re-issues of Zevon's albums done by Rhino in the late 2000s. It is available from any number of online music stores.
Ad blocker interference detected!
Wikia is a free-to-use site that makes money from advertising. We have a modified experience for viewers using ad blockers

Wikia is not accessible if you've made further modifications. Remove the custom ad blocker rule(s) and the page will load as expected.