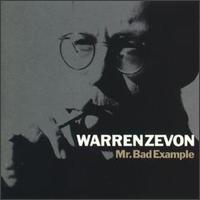 Mr. Bad Example is an album by American rock singer/songwriter Warren Zevon, released on October 15, 1991.
Track listing
Edit
All tracks composed by Warren Zevon; except where indicated
Personnel
Edit
Production
Edit
Producer: Waddy Wachtel
Engineer: Marc DeSisto
Assistant engineers: Andrew Ballard, Scott Blockland, Jeffrey Shannon, Brian Soucy
Mixing: Niko Bolas, John Beverly Jones
Mastering: Dave Collins
Technical assistance: Peggy McAfee, Tom Smyth
Art Direction: Jeri Heiden
Design: Jeri Heiden
Photography: Diego Uchitel, Jimmy Wachtel
---
<< Hindu Love Gods | Learning to Flinch >>
<< Transverse City | Mutineer >>
Ad blocker interference detected!
Wikia is a free-to-use site that makes money from advertising. We have a modified experience for viewers using ad blockers

Wikia is not accessible if you've made further modifications. Remove the custom ad blocker rule(s) and the page will load as expected.