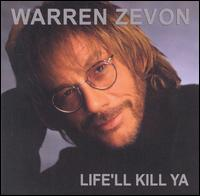 Life'll Kill Ya is an album by American rock singer/songwriter Warren Zevon, released on January 25, 2000. The album was recorded in 1999. Although "Life'll Kill Ya" contained the explicit track, "My Shit's Fucked Up", it did not receive a parental advisory label.
Several of the album's songs deal with the topic of death. For instance, "My Shit's Fucked Up" is a mournful lament to the aging process and the inevitable decay that accompanies it. It describes the narrator visiting a doctor, where he receives unpleasant news: "your shit's fucked up". "Life'll Kill Ya" and "Don't Let Us Get Sick" also have prominent death themes. In 2002, just two years after the release of Life'll Kill Ya, Zevon was diagnosed with mesothelioma which killed him a year later.
Track listing
Edit
Personnel
Edit
Warren Zevon - percussion, keyboards, piccolo, theremin, vocals, penny whistle, harmonica
Jorge Calderón - bass, guitar, percussion, vocals
Dennis Collins - vocals on "Fistful of Rain"
Babi Floyd - vocals on "Fistful of Rain"
Curtis King - vocals on "Fistful of Rain"
Chuck Prophet - guitar on "For My Next Trick I'll Need a Volunteer"
Jim Ryan - mandolin on "Ourselves to Know"
Winston Watson - percussion, snare drums
Production
Edit
Producers: Paul Q. Kolderie, Sean Slade
Engineers: Paul Q. Kolderie, Sean Slade
Mastering: Greg Calbi
A&R: Michael Krumper
Art Direction: Warren Zevon
Design: Jonathan Exley
Photography: Jonathan Exley
Album
| Year | Chart | Position |
| --- | --- | --- |
| 2000 | The Billboard 200 | 173 |
| 2000 | Top Internet Albums | 9 |
---
<< Mutineer | My Ride's Here >>
Ad blocker interference detected!
Wikia is a free-to-use site that makes money from advertising. We have a modified experience for viewers using ad blockers

Wikia is not accessible if you've made further modifications. Remove the custom ad blocker rule(s) and the page will load as expected.