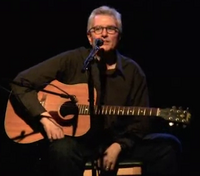 Jorge Calderón, originally from San Juan, Puerto Rico, is a multi-instrumentalist, songwriter, and record producer best known for his collaborations with Warren Zevon. He holds the unique distinction of having been credited on all of Zevon's post-1976 albums with the exception of My Ride's Here. Additionally, he produced Zevon's final album The Wind (for which he co-wrote many of the tracks), as well as the Zevon tribute album Enjoy Every Sandwich: Songs of Warren Zevon. On The Wind, he plays bass, acoustic guitar, various percussion, electric guitar, as well as background vocals.
Calderón released one album featuring his own songs on Warner Bros. Records in 1975 titled City Music.
Ad blocker interference detected!
Wikia is a free-to-use site that makes money from advertising. We have a modified experience for viewers using ad blockers

Wikia is not accessible if you've made further modifications. Remove the custom ad blocker rule(s) and the page will load as expected.