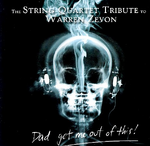 Dad Get Me Out Of This: The String Quartet Tribute To Warren Zevon is an instrumental tribute album to Warren Zevon by the Vitamin String Quartet released on November 25, 2003. The title is derived from a line in the song "Lawyers, Guns and Money".
Track listing
Edit
1. "Poor Poor Pitiful Me" - 3:18
2. "Werewolves of London" - 4:06
3. "Detox Mansion" - 3:16
4. "Excitable Boy" - 2:32
5. "I'll Sleep When I'm Dead" - 3:08
6. "Hasten Down the Wind" - 2:56
7. "I Was in the House When the House Burned Down" - 3:08
8. "Keep Me in Your Heart" - 3:23
9. "Lawyers, Guns and Money" - 3:04
10. "Roland the Headless Thompson Gunner" - 3:50
Personnel
Edit
Warren Zevon - tributee
David Davidson - violin
Todd Mark Rubenstein - audio mixing and arranging
TMR Productions, Nashville, Tennessee.
---
<< The First Sessions | Hurry Home Early: the Songs of Warren Zevon >>
Ad blocker interference detected!
Wikia is a free-to-use site that makes money from advertising. We have a modified experience for viewers using ad blockers

Wikia is not accessible if you've made further modifications. Remove the custom ad blocker rule(s) and the page will load as expected.